Animation, character sketches, recreation program
When the team be there: (could still change)
Easter
May holidays
Ascension
Pentecost
Summer holidays
Autumn break

For children to the age of 13 years it is totally super on our camping site!
There are activities that come back every year:
'S tinkering mornings, evenings with Sam and Suus theatre, games, sports, activities with Noetsie, musicals performed by children, playback shows, etc. etc.! But we come up with new surprising things every year.

Book here a wonderful carefree holiday in a rental property or at our campsite!
Noetsie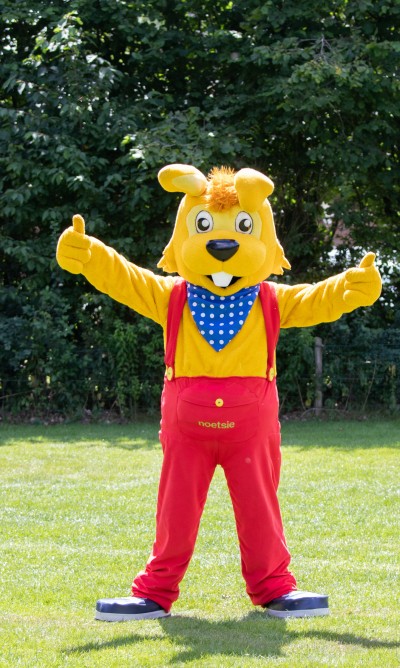 Noetsie has lived for a few years on the Noetselerberg. He's the big, cheerful, yellow rabbit of the Noetselerberg. Noetsie is the friend of everyone at the camping site, he comes regularly in the holidays to give a high five or a hug.
Noetsie likes to eat lots of tasty orange carrots, high five's, and to dance to the largest camp hits like Theo, Chou Tsjoewa and Johnny cowboy. This is what he does regularly with the children at the camp. He comes down every morning and every day in the afternoon to swing, to dance, to give high five and to cuddle.
Do you see Noetsie? Pay attention to him because if you see him in the morning you should call out to him, the chance that Noetsie runs to you next is big.
Sam & Suus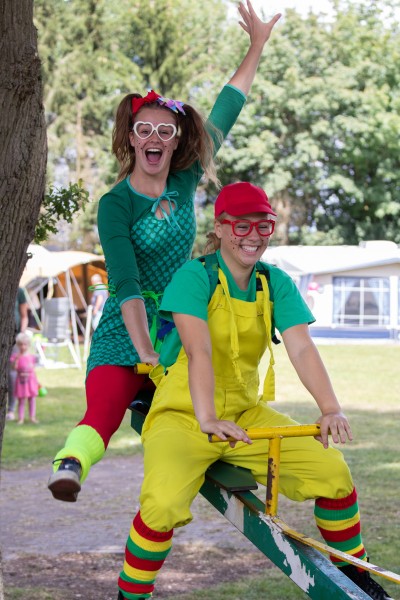 Every holiday Sam & Suus are found together at the campsite. Sam & Suus have met at the camp site six years ago and have since been the greatest friends and inseparable. They agreed together that they are going on a forever holiday to the Noetselerberg. Together they experience the biggest and craziest adventures on the camping site. But they also love each other like a fool. Sam is smart, a bit awkward and almost has a solution for everything. In the theater, Sam finds it supercool to give a supersonic high five to all children. He's very good at it and thinks it's one of the best things to do. But he also likes to cycling, stepping, swimming and slide down as often as possible on the slide. But the best fun for him to like is obviously to go on adventures with Suus. Suus is very busy, talks a lot, and a real spring on the field. She can jump very well with her colored rope and with her jump rope she thinks it's one of the most fun things to do. She also likes to do a lot of swimming, biking and to eat ice cream. Just as Sam she thinks the most fun thing to go on is an adventure together of course. She also likes it very much to keep Sam fooled. She might think it's even the most-most-most fun thing to do!

Will you also come along with Sam & Suus to the theater? During the holidays, they are findable (almost) every day at 19 o'clock in the theatre at the Noetselerberg!
Do you want to book for a period longer than 3 weeks? Contact in that case the camping itself directly by phone or email.