Subtropical swimming pool with slide, outdoor pool and with sunbathing!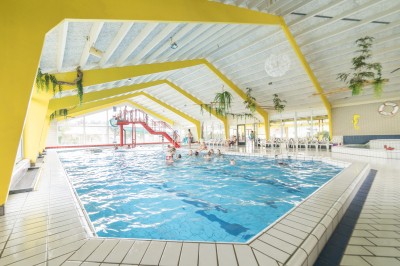 indoor:
The campsite has a subtropical swimming pool for young and old. There lengths can be drawn, there is a slide of 35 meters, a pirate ship and there are toddler baths. The pool has a lovely temperature! The large pool is 29 degrees and the children's pools are 31 degrees. The baths are only visible for campers.

outdoor swimming pool:
The outdoor pool is open from end of April to 1 September. (The indoor of course all season long)
There are two outdoor pools. One for young and old to swim and a paddling pool for toddlers.
Outside at the pool stand sun loungers to enjoy the sun

Pool opening hours:
In 2017 open from April 8th to Sunday 29th October.
9:00 to 9:30: 55+
09:30 to 20:30: Everyone
closed on sunday (opened during peak season)

Our pool is open for guests of the camp and their visitors. For guests, the pool is free to enter, visitors from guests pay 3 €
The pools have different depths. The big bad 'runs' on from 1.20m to 1.40 m deepth. The bath in the pirate boat is 80 cm deep and there are real paddling pools for toddlers.
Do you want to book for a period longer than 3 weeks? Contact in that case the camping itself directly by phone or email.